About Ilaji Hotels and Sports Resort
Given the perfect bliss that nature offers and the luxury experienced and comfort associated with modernity, Ilaji Hotels and Sports Resort is established to provide a unique experience to the lovers of nature and luxury.
Situated in the serene town of Akanran, Oyo State, Nigeira, Ilaji Hotels and Sports Resort is filled with modern architectural structures that create an ambience of class and bliss.
Our conference center and hall are ones designed and equipped with facilities that will give your events a sense of splendor.
With the vision of fostering unity within the family set-up, a trip to our resorts will give your family members the fulfillment they deserve as our standard facilities which include children garden, stadium, fitness center, swimming pool and sporting facilities and arrays of bars will resonate the different needs of each of your family members have longed to experience as a unit in one single place.
As our guests, the sights and sounds of recreational animals and natural vegetation can be soaked up right from your suites as they are designed with a private veranda that makes you enjoy the panoramic view of perfect blend of nature and modernity.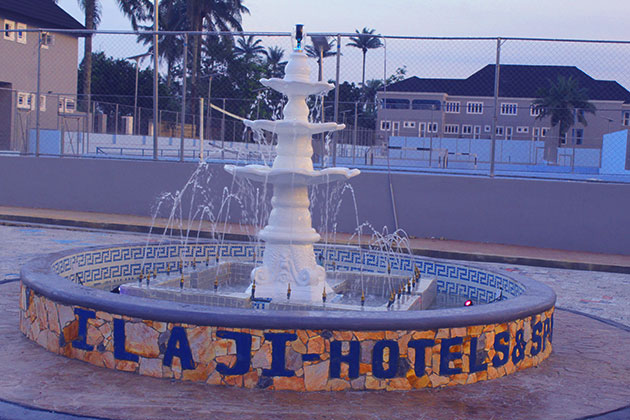 natural ambience of bliss & class
Mission Statement
Our commitment is to provide a unique and enriching travel experience that will stay with our guests long after they leave our resorts; this we hope to achieve by creating a unique blend of class and bliss through the preservation of natural ambience dotted with modern architectural designs.
We have created an atmosphere that serves as a stress-reliever through the provision of standard sporting facilities and recreational animals whose sight instantly refresh your entire being.
Just as it is our responsibility to give our guests a satisfying experience, it is also our responsibility to ensure the socio-economic development of our community and preservation of this serene environment for generations to come.
Engagement of our youths is very dear to us, hence, our dedication to constantly use sports and entertainment as a means through which their talents are fully explored not only for their personal gains but for the good of the society at large.
haven of hospitality & fitness
Vision Statement
To be a leading hospitality and entertainment outfit in Nigeria and Africa as a whole through the provision of consistent classy services and activities to our esteemed guests; and to be a viable platform for the discovery and nurturing of sporting talents to stardom.